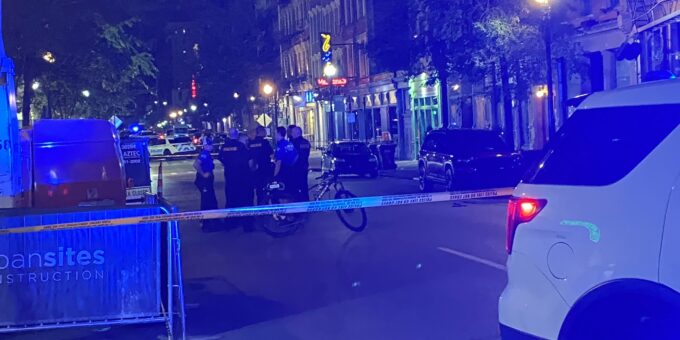 CINCINNATI – Cincinnati police are analyzing after several people were shot in Over-the-Rhine early Sunday morning.
The shooting happened around 1:40 a.m. outside Mr. Pitiful's at 13th & Main Streets.
Officers at the scene confirmed numerous people were shot. No word on the extent of their injuries.
I just spoke with an employee of Mr.Pitiful's who said they were working the door. He said all of a sudden "all hell broke loose." They said they heard 15-20 gun shots, "It sounded like packs of fire crackers going off." They saw multiple people taken away on stretchers. @FOX19 pic.twitter.com/Mt1qmzW8AT

— Kody Fisher (@KodyFisherTV) August 7, 2022
Police have Main Street closed, and police videotape runs west on Thirteenth Street to Vine Street and eastward encompassing Zeigler Park.
This is a developing story.
#BREAKING: CPD is responding to multiple gunshot victims on Main St., OTR. Possibly 13 victims at this time. @WCPO pic.twitter.com/3f7oTYIEo1

— Rob Pieper (@robmpieper) August 7, 2022
reference: FOX19
Updated
Lt. Col. Michael John said multiple shots were fired within a large crowd on Main Street and 9 people have been confirmed to be injured, report.
University Hospital has confirmed there are multiple victims, a mix of walk-ins, ambulance, and police transports, at the hospital.
John said that no one is in critical condition and most injuries were to lower extremities.
No suspects are in custody at this time but Cincinnati Police says the suspect fled the scene and it appears to be one shooter, they can't confirm if there was another.
Police have closed Main Street at the intersection of Liberty Street in Cincinnati, reports.
Mehul Ghodasara is an SEO Analyst, Trens Analyst, Digital marketing analyst and writer. He loves to give you knowledge about the digital world for today's generation.