Is there a monopoly in social media networks? – DTW
Let's discuss how top social media networks always remain at the top position because of their monopoly in social media. Thair can use our data to support their company and subsidiary company growth. for example, Facebook uses our data from their Parent company WhatsApp and Instagram and Facebook can optimize their ads for customer perspective and generate more revenue.
Here is a chart of big companies and last we will discuss monopoly in this field.
Statista asked 5,047 online consumers about their social media usage habits as part of its Global Consumer Survey. The data show that Facebook is the most popular platform on the overall globe, with 73% of respondents saying they use the service. YouTube comes in second, with 64% saying they use the video platform.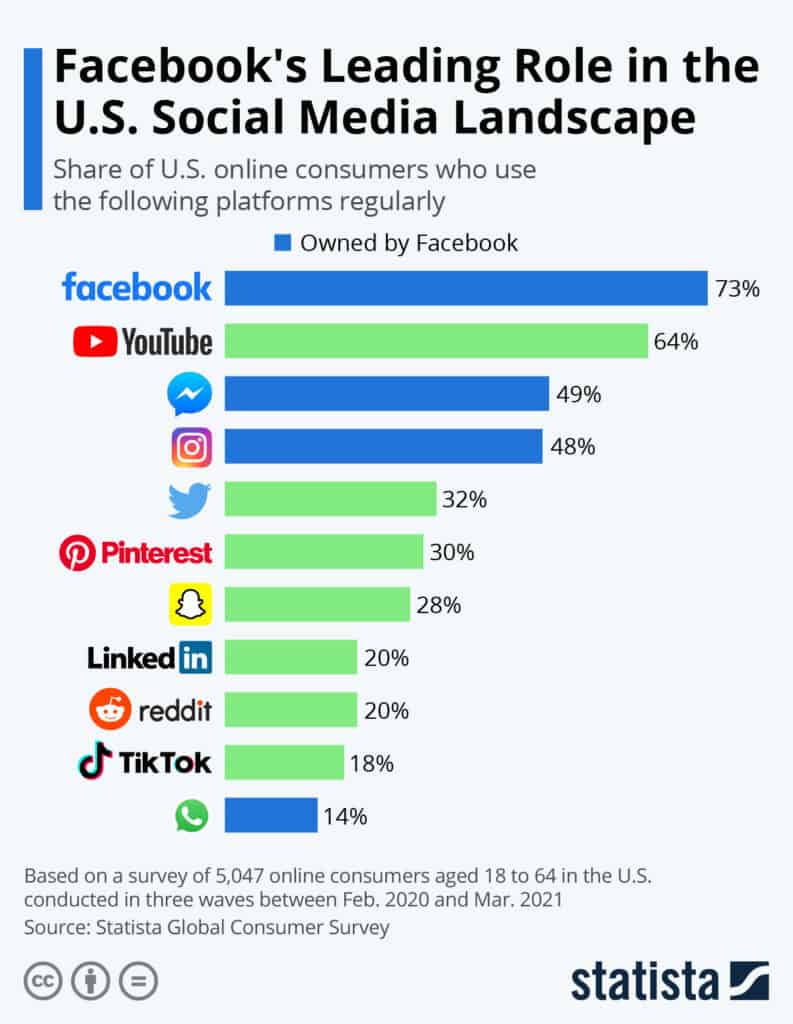 As shown in this upper graph Facebook has a market leader and monopoly of all social media. Because this channel has a large audience.
As of 2021, the number of people using social media is over 3.9 billion all over the world, with the average user having 8.6 accounts on different networking sites. Popular platforms like Facebook have over 67% of their monthly users logging in to use social media daily. Refferancefrom: backlinko.com
How big companies collect data of ours?
For this data, the company receives our data by advertising their application on other platforms and search engines, after tracking this data, shows us an advertisement again and again, after that, we download this application and give all our details. Similarly, all social media collect data from their customers.
Whatever the next time is coming, it is the data itself, the reason is that whoever has more data will remain the top leader in their field, so countries like China are unofficially collecting the details of the people by creating applications like TikTok, xender, and many popular apps.
What do big companies do by collecting data?
First of all, he sends a cold mail every month and every week this process starts continually. Because he has things like our mail id and phone number, because of that he contacts us and advises us to download and use his application, even if you do not use it, then this company give you extra service or some attractive offer. And here we get stuck for good offers to use their apps.
How can we decide that in this field some giant has a monopoly in this field? Just think, from my point of view, its data is a big advantage of any company to analyze any human behavior and their interest. This all company call data-driven company high data means high monopoly its simple.
You also Like this to read