Guide To Download Instagram Reels Without Watermark
Comprehensive Guide To Download Instagram Reels Without Watermark
Instagram Reels, a popular form of short-form video content, has become extremely popular these days because this study shows that Instagram reels users increased by over 57.4% every year. If you find funny, emotional, or informative reels, you instantly save them to your iPhone. Keeping an Instagram reel to your phone without a watermark allows you to share it with anyone on any platform easily.
Furthermore, you can watch it offline or even extract the audio from the reel. This tutorial will guide you on downloading high-quality Instagram Reels without colored borders or watermarks. The greatest advantage is that you can go through the entire process without paying anything.
Why It Is Important To Save Instagram Reels?
Today, we incorporate Instagram Reels into our content strategy for numerous beneficial reasons. Firstly, they provide a great platform to showcase your personality and get creative with the content you share.
Unlike traditional feed posts, Reels are meant to be more authentic and unfiltered. This makes them ideal for sharing behind-the-scenes content, quick tips or tutorials, and relatable bite-sized content. Additionally, Reels are highly consumable, which means they quickly grab the attention of your target audience as they scroll through the app.
Furthermore, Instagram has prioritized reels by giving them their dedicated space at the top of the Explore tab. It shows that Instagram heavily invests in reels, making it the perfect time to use them in your content strategy!
Like to read: How to See Blocked People On Instagram?
Steps To Download Instagram Reels Without The Watermark:
If you open your camera roll to view the recently downloaded reel, you will likely see the addition of a small Instagram reel logo as a watermark. Although it may not bother you, it would be wise to remove this logo if you plan on sharing the reel on other platforms. Unfortunately, this issue has no built-in solution since the watermark serves as free advertising for Instagram. Instead, you must rely on a third-party application to download reels without the logo. Here are some steps:
Step 1: Open The Instagram Reel Link In The Third-Party App:
To remove the watermark, download and launch the free Instagram tool. Make sure you grant permission to access all your photos. Then, open the Instagram app and navigate to the desired Reel. Tap on the three dots icon and select the option to Copy the link.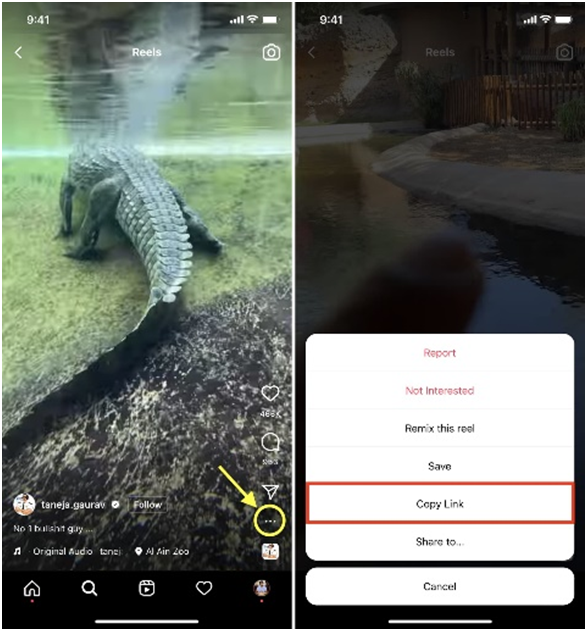 Step 2: Open The Tool With Instagram Reel Link:
Access the third-party App or reels downloader with the link to the Instagram reel. The copied link should be pasted automatically, or you can paste it manually. Click on "Preview Photo or Video." Now you can share the reel directly from here.
Step 3: Check The App In Your Gallery:
The mentioned Reel is saved on your phone. You can check it by opening the gallery. You can also use the same method to download videos from Instagram posts, Stories, etc. In simpler terms, this one app can perform all of these tasks.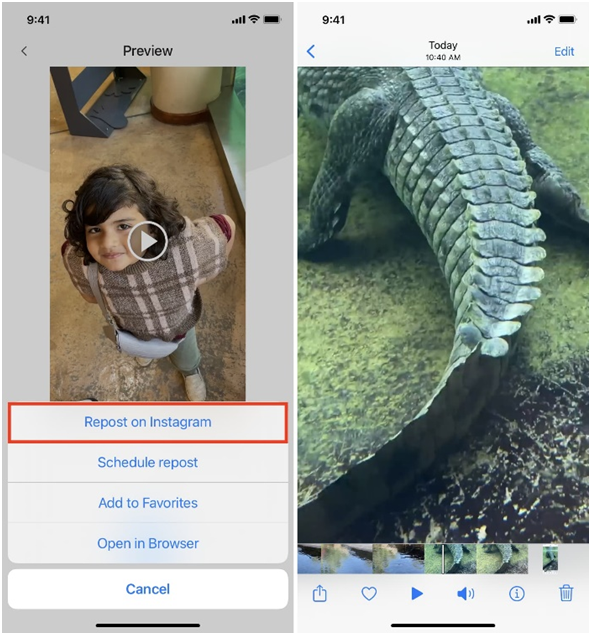 Important Tip: If the app requires login, please ensure to manage it with your credentials for seamless download of Instagram Reels, including those from private accounts you follow. Your Instagram login information is not visible or stored by the app; Instagram handles all data handling. Thus, you can proceed without any concerns. You may observe that certain reels are not downloadable due to the privacy settings set by the individual for those particular reels.
Like to read: Best Trending Instagram Bio For Girls
Other Possible Methods To Download Instagram Reels On Your Phone:
There are different methods through which you can have these reels on your phone without any watermark. Here are some of the popular options:
1. Screen Recording For iPhone:
To begin, navigate to the Settings menu on your iPhone and select Control Center. From there, locate the green plus icon and tap it to include the Screen Recording button. Then, access the Control Center on your iPhone, tap the Screen Recording icon, shut down the Control Center, and start playing the Instagram reel.
Your iPhone will proceed to record all the contents displayed on the screen. If you want to stop the recording, tap the red pill or bar at the top of your iPhone. For more comprehensive instructions, please refer to the guide on making an iPhone screen recording with or without audio.
2. Save Your Reels Within The App:
To store an Instagram reel for future viewing, click on the three-dot icon and choose the option to Save. This action will not save the Reel directly to your iPhone but rather place it in your Instagram profile's "Saved" section. This feature serves as a way to bookmark reels for future access rather than downloading them locally to your device.
3. Add To Your Story And Then Download:
Click on the send button to share an Instagram Reel and select the option to add it to your story. Next, click the three dots icon and save the Instagram Reel to your iPhone Photos app.
Like to read: Instagram reels vs Tiktok: Popularity of reels grow up
Conclusion:
Instagram Reels is currently an open market for users, creating a valuable opportunity for influencers and brands to build their presence or expand their reach on the platform. With the assistance of third-party tools, it is possible to download Instagram Reels without any watermark. While the accessible version of these tools may have advertisements, users can download Reels without a watermark for free after skipping the ad. Alternatively, users can opt for the pro version, which grants additional features and eliminates all ads for a small annual or one-time cost.
FAQs:
1. What is a watermark in an Instagram video?
An Instagram reel watermark is similar to a photo watermark. It is a static image at the reel's bottom right corner while playing. This watermark usually consists of the brand logo or a customized watermark, but it can be distracting when watching the video.
2. Can I use Instagram reels with watermarks?
To maintain optimal engagement and reach on Instagram's Reels feature, it is advisable to avoid using watermark videos. Many individuals make the error of repurposing their TikTok videos as reels, but Instagram does not favor watermarked content.
3. What is the process for removing watermarks from Instagram reels?
To eliminate the Instagram watermark from Instagram reels, the initial approach is to remove it through cropping. It can be achieved by utilizing diverse video editing applications and software accessible for mobile and desktop systems. If you are considering obtaining a fresh editing app, you can adhere to the guidelines provided by the app to crop the video.
4. What is the process for maintaining the reel quality after removing the watermark?
To improve the overall appearance of your Instagram videos after eliminating the watermark, the easiest method is to adjust the maximum video quality settings before recording manually. It is important to select a video quality of 1080p and a frame rate of 30fps or above on your device to achieve the best possible Instagram reel video quality. Additionally, remember to turn off the data saver mode.