Here we can explain about Windows 11 weird bug that overcharges laptops battery.
Everyone wants to know about windows 11 and how they affect their laptop. After updating windows 11 all people want to know about their battery life and some person find the bug in windows 11.
But now some Reddit group has shared a screenshot of the laptop screen that shows 104% charging of laptop. So what is going on?
You also like to read: Best reface apps android
This is not possible in science because beyond 100% battery percentages is not possible. Of caurse, we can say that Microsoft brack that science rule. Here you can see the screenshot of the percentage.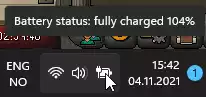 So that @sofia_w_w has a twitted about that bug and member of microsoft employee give that answer, Below…..
We know that Zondex is (or at least was) running Windows 11 build 22483.1000, so it may be an awkwardness associated with the preview build. This appears in only windows 11 so that this is an isolated issue for overcharging laptop batteries.